Wiki created January 6, 2012‎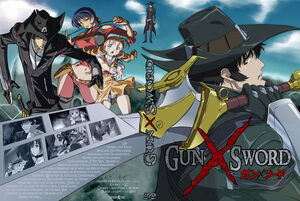 Welcome to the Gun Sword Wiki
Edit
Gun Sword (ガン × ソード), stylized Gun X Sword, is a Japanese animated television series produced by AIC A.S.T.A. The series is directed by Gorō Taniguchi and written by Hideyuki Kurata.
Gun Sword is an Anime series detailing the travels of a Vagabond bent on avenging his late fiance's death, and a young girl who at first seeks to find her kidnapped older brother, but then turns to become confused misunderstanding the reasons for her leaving home.
The story is set on the "Planet of Endless Illusion", a place where rogues of all sorts gather. The protagonist, Van, travels the world searching for a man with a clawed right hand who killed his bride. He is joined by several other travelers along the way, each linked to the clawed man by a personal loss.
The series aired on TV Tokyo from July 4, 2005 to December 26 of the same year, totaling 26 episodes. An English dub aired on Animax Asia in March 2007.
The series was licensed for North America by Geneon Entertainment, who produced a new English dub overseen by New Generation Pictures. New Generation's English language version is also available in Australia from Madman Entertainment and in the United Kingdom by MVM Films. At Anime Central 2010, North American anime distributor Funimation Entertainment announced that they have rescued Gun Sword and re-released the series in late 2010.
Opening theme
Edit
Insert songs
Edit
Ending themes
Edit
Gun Sword San
Edit
These are a series of 13 omake episodes of Gun Sword tied in very loosely to the plot with the characters as chibi puppets. The main characters are Wendy and her turtle, Kameo, the size of a human in this series and able to talk. Michael, Van and Carmen also appear voiced by their voice actors in the mainstream episodes. All the episodes seem to center around analysing various events in Gun Sword and mocking the themes displayed.
In the DVD volumes of Gun Sword there are 2 episode tied in to each volume in the extras with episode 13 on its own in the final one.
Other wikis
Edit
Ad blocker interference detected!
Wikia is a free-to-use site that makes money from advertising. We have a modified experience for viewers using ad blockers

Wikia is not accessible if you've made further modifications. Remove the custom ad blocker rule(s) and the page will load as expected.