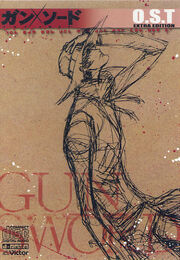 Gun Sword O.S.T. Extra Edition
contains additional tracks not contained in the first two Gun Sword O.S.T. albums. It was available in Japan as a bonus for pre-ordering the complete Gun Sword DVD set.
[2]
The Tuxedo Whirls to the Wind
For My Sin
Don't Worry
Across the Borderline
On the Mountain
Growing Up
To the Blood
What's Planets?
Meet Somewhere
For a While
Lost Desire
Bad Plant
No Lucky
Pure Malice
GUN×SWORD [starting again]
References
Edit
Ad blocker interference detected!
Wikia is a free-to-use site that makes money from advertising. We have a modified experience for viewers using ad blockers

Wikia is not accessible if you've made further modifications. Remove the custom ad blocker rule(s) and the page will load as expected.